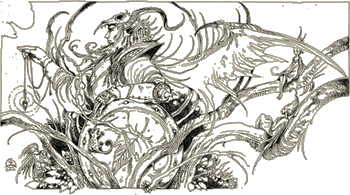 K I N G o f P E N T A C L E S
The King of Pentacles bears a seed in his hand. It gleams golden with an inner light, and it pulses as if it contains a heartbeat that speaks with a humble promise to sprout. The leaves strain forth to bask in that radiance. The branches offer ripe honeyed fruits, each luscious globe swelling with tantalizing sweet juices.
This king is an enterprising individual, a man possessing of multifarious talents. He has the golden touch of Midas, gilding everything around him with a sumptuous gleam. When he lays his hands upon a venture, it is bound for success. When he sets his mind to an idea, it becomes polished brilliance. He is reliable, and adept at what he does. He is steady and a solid support should you need someone to lean on. The eternal strength and stability of the trees and roots are his to draw from, and he stretches branches, and arms, and aspirations to the stars.
He is generous, and shares his wealth. Partake of the fruit he offers. He knows that wealth will be shared, and from those fruits, new seeds will sprout and grow to be mighty trees.
::Details::

Original: Sold