April 2019
---
Upcoming Conventions & Shows
AWAKEN
Solo Gallery Exhibition at Haven Gallery, Northport NY.
Awaken began in the literal sense of the word, in images and words scrawled during jaunts of insomnia. They feature improbable combinations of fantastical landscapes where sea, sky, and forests are inverted. These disparate realms intermingle in textured shifts of watercolor and gold leaf; and they meld, only to be shattered into mosaic components.
Mosaic patterns are a repeating motif. They scatter through the dream-landscapes, shed from disintegrating dragonfly wings. They uncoil from the moon, and weave between branches. They create a visual, symbolic shorthand for the intricacies of the world's biological patterns and building blocks.
Awaken celebrates the beauty of these inner workings, but also revels in the freedom that embracing the figurative night brings. In the nocturnal realms, the logic of daytime slumbers. Desires, defiance of rules and normality, and acceptance of change become the dominant realities. It is about that sense of lightness that comes with casting off fear off judgement and allowing impulse to dictate creative urges.
This comes to life in the wildly dancing figures, the symbols of change and transformation that the dragonflies encapsulate, the capering trickster foxes that shift between the worlds of life, death, and dream, and elusive castles that hover like mirages above tangled forest canopies.
April 6 - May 5, 2019.
* * *
PhilCon
Artist Guest of Honor at Crown Plaza Hotel, Cherry Hill, NJ
November 8-10, 2019
* * *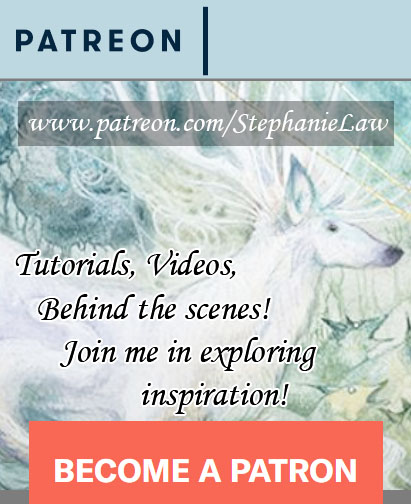 Hello my friends! I've embarking on a new endeavor these past few months. I've launched a Patreon and you can find me at www.patreon.com/StephanieLaw
Lots of free material in the first few posts to give you an idea of where I want to go with this adventure, but mostly I want to have a space where I can begin to create more video material (that has been often requested of me in recent years) and to share a lot more of what goes on behind the scenes. I hope you take a moment to take a peek, explore, and maybe stick around!